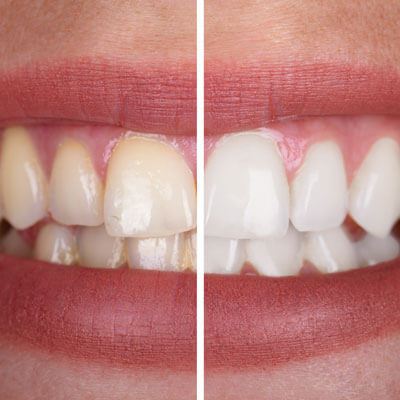 Why Choose In-Office Whitening?
Over the counter products cannot match the strength of professional whitening. Over 4 million patients have whitened their teeth for a beautiful smile with Phillips Zoom Whitening.
Zoom WhiteSpeed Whitening is an affordable and safe procedure. It can bring a patient's teeth up to eight shades lighter in the office, and take home trays are provided to touch up teeth at home.
The whitening procedure has been perfected over the years by Phillips.
What to Expect
During an in-chair session in the practice, the gums are protected by a barrier during the procedure, and a unique hydrogen peroxide whitening gel is applied to the teeth by trained, certified dental assistants. The hydrogen peroxide breaks the molecular bonds making up the stains on teeth.
The strong LED light shining on the whitening gel accelerates the whitening process. The appointment takes about an hour, and reveals an immediately brighter, beautiful smile.
Contact Chris E. Perkins, DDS and Associates today to learn more about unlocking a whiter smile!
Contact Us »


Teeth Whitening Kingwood TX | (281) 358-3384