New Patients at Chris E. Perkins, DDS and Associates
Upon entering the practice, new patients can expect to be greeted by name. In fact, everyone who works at
Chris E. Perkins, DDS and Associates
takes pride in helping patients feel at home and comfortable during their time in the office. From relaxing decor to welcoming staff, patients can rest easy knowing they're getting honest, effective care.
Patients should bring a copy of their identification (drivers license) and insurance card to their first visit. New patient paperwork can be found on our website and downloaded before the visit, or patients can easily fill it out in the practice upon arrival. The office takes a patient's time seriously, and aims to always run on time. The team is conscious of everyone's busy schedules and strives to never keep wait times over 10 minutes. Often, there's absolutely no wait!
When Dr. Perkins is ready for a patient, he will spend one on one time with them addressing their health history so he can learn about the patient, their goals, and concerns. He also loves answering any questions they have, and aims to make people feel like a partner in their care. Next, the assistant will bring them back to the treatment area. X-rays will be taken and an oral cancer screening will be performed. If treatment is recommended, Dr. Perkins will go over a custom care plan with the patient individually. He aims to educate patients on their needs, so they can make informed decisions about their oral health care.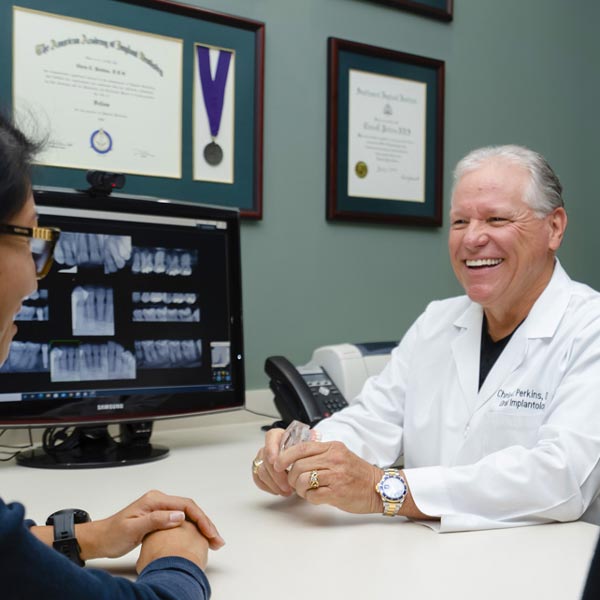 As the practice takes pride in offering honest care, all financial obligations will always be discussed before any work is carried out-the team never wants a patient to feel surprised. If a patient would like to move forward with additional treatment or a
general checkup and clean,
a staff member will get it scheduled.
Dr. Perkins and the entire staff look forward to meeting new patients and helping them unlock the smile of their dreams. Interested in getting started or learning more about how Chris E. Perkins, DDS and Associates can help? Simply contact the practice today to book a visit. Dr. Perkins accepts all PPO insurance plans as well as
CareCredit
and
Sunbit
. They also offer other 0% financing options so patients can get the care they need, when they need it most. Book a visit today!