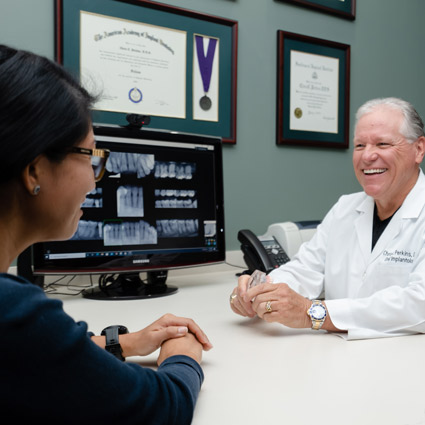 Many Different Solutions
When a patient experiences common problems like chipped, missing, or cracked teeth, a restorative treatment quite literally turns frowns upside down.
Dr. Perkins is proud to offer many different solutions for patients in need of dental work, including but not limited to:
Implants
Crowns
Partial Dentures
Veneers
Inlays and Onlays
What Treatment is Best?
To help a patient determine the best treatment to correct their unique issue, Dr. Perkins invites them to book a consultation. At their appointment, the dentist will have an opportunity to chat with a patient about their goals, examine their mouth, and go over an honest, effective care plan that can restore their smile.
Learn More Today
Discover effective, honest dental care with Chris E. Perkins, DDS and Associates by contacting to book a visit today. Dr. Perkins is proud to offer a number of restorative treatments that can be catered to the specific smile goals of each patient.
Get started today!
Contact Us »

Restorative Dentistry Kingwood TX | (281) 358-3384