Many patients who have lost some or all of their teeth suffer from physical discomfort, the inability to chew, significant speech and appearance changes, and a host of other health and psychological concerns.
Chris E. Perkins, DDS and Associates, also called Houston Dental Implants & Oral Reconstruction, is thrilled to offer patients the chance to smile beautifully again with a custom treatment plan for dental implants.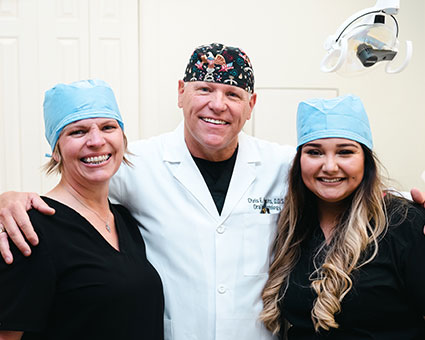 What to Expect
The dental implant process takes place over a few different visits to the practice. A patient's journey begins with a consultation where Dr. Perkins can examine their mouth and determine if implants are the best option. If so, all finances are discussed before any treatment is done. Here, the team takes pride in offering care that's not just effective, but honest.
If a patient would like to begin the implant journey, Dr. Perkins is ready when they are.
Advanced, Board-Certified Training
Most patients get caught up in the hype of advertising. Don't all dentists have the same credentials?
Any dentist can do implants with the right equipment, but not all dentists have the education and experience that a board certified dentist has. A board certified dentist from the American Board of Implantology (ABOI) has 570 or more continuing education hours in Implant Dentistry.
The dentists that are board certified in implantology, like Dr. Perkins, have gone through rigorous training and testing to become board certified. Dr. Perkins served as a dental examiner on the board (ABOI) that certifies other dentists for their credentials. Dentists who are certified have "Big Picture" experience providing implant dentistry to patients who want to achieve their long-term goals.
Learn More Today
Dr. Perkins looks forward to the chance to get to know new patients interested in dental implants. To get started today, book a consultation. A beautiful smile is within reach, and Dr. Perkins can help with safe, effective, and honest treatment.
Book a visit today!
Contact Us »

Dental Implants Kingwood, Houston, TX | (281) 358-3384