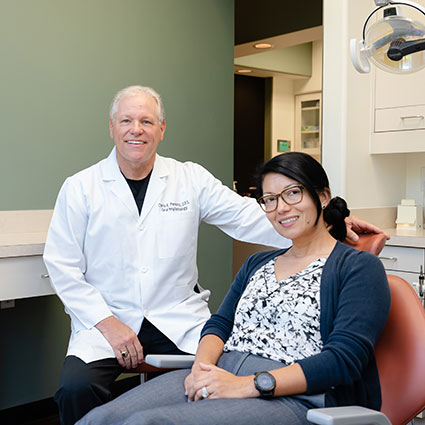 What to Expect
When booking a hygiene visit here, patients can expect:
For nervous patients or those who may be anxious about visiting the dentist, Dr. Perkins is happy to discuss sedation options, which can be easily and safely carried out in the practice.
A Focus on Prevention
We realize that patients are busy, and sometimes, they put dentistry on the back burner. Here, Dr. Perkins understands that patents are pressed for time. That's why he commits to quality dentistry for patients, but realizes that efficiency and expediency are also factors in everyone's life.
Chris E. Perkins, DDS and Associates emphasizes the preservation of natural teeth, which includes thorough examinations and the taking of appropriate records for each patient. Dr. Perkins also encourages timely visits for follow up checkups and routine prophylaxis (cleaning) with highly skilled Hygienists. Patients of every age are welcome here, from toddlers to grandparents and everyone in between.
When a person comes to the office for treatment, everything will be planned and organized for them, so they can plan accordingly. Value is another important ingredient that goes into the Chris E. Perkins, DDS and Associates decision making process. Here, providing service in a kind and caring manner while keeping the family budget in mind is always a priority.
Time for A Visit?
Whether it's time for a visit or long past due, Dr. Perkins is here to welcome patients into the practice whenever they're in need. Here, there is no judgment if it's been a while since their last visit.
Want to book a visit for the entire family on the same day? Simply contact the practice. The team is happy to accommodate such requests.
Dr. Perkins looks forward to welcoming new and old patients back for a cleaning and hygiene visit. Book an appointment today!

General Dentistry Kingwood TX | (281) 358-3384